The pope in Philly insanity begins in a week on September 25 and 26, 2015. Here's a map of the security perimeter that Philly is erecting to "protect" the pope. Included in this perimeter are my home and neighborhood, where all traffic will be cut off and people have to pass through security checkpoints to enter the perimeter.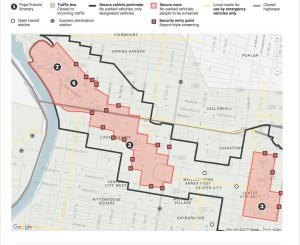 I will be a prisoner in my own home next weekend when the pope arrives in Philly. All traffic in my neighborhood will be blocked, security will be tighter than in most prisons, and a gigantic jumbotron will be posted on Broad Street near my building so all the pope worshipers can watch his journey through Philly's streets. We're expecting 2-3 million people will be lining our streets, about as many as who celebrated the Phillies 2008 World Series victory.
Personally I am indifferent to the whole silliness; as an atheist and ardent believer in Democracy (notice the capital 'D'), I have little use for unelected (by the people) theocratic leaders, especially this relic from our (European-Americans) barbaric, feudal past when we were harshly and unjustly ruled by kings, princes, bishops, lords, and other vile, unelected scum. I refuse to capitalize his title and could care less about him or his church, one to which I was forced to belong as a child and adamantly refused to believe in its religious dogma or god since I was intellectually conscious as a child. Sorry, folks, I'm just not wired for religious belief and I hold zero reverence for religious leaders.
I find all this a huge waste of resources and taxpayer money. All this pageantry and grandeur for a foreign potentate in a city, Philadelphia, that is the birthplace of democracy, where we demanded, and fought for with our blood, our freedom from these asshole kings, princes, and bishops from Europe's Ancien Régime; the irony is not lost on me. The USA was created on the idea that all men and women are equal and we bow to no one in servitude as subjects, that no religion or church will ever hold power in our governance as free citizens. I choose freedom and enlightenment.